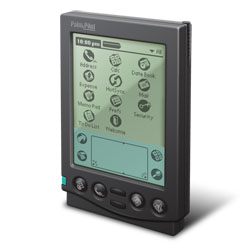 If your palm is acting weird, did you try hard-resetting it? It's like rebooting your computer.
Just sync the palm to your machine so your desktop will have the latest info.
Do a hard-reset on the palm (hold the power button down, press the reset button in the back, let go the reset button, wait for the welcome screen to appear, release the power button). This will clear out everything on the palm.
Now run your Palm Desktop, click on the hotsync icon on the lower right, select Custom, select each of the Conduits (except for Install and System which you can leave as-is) and pick Desktop overwrites Handheld. Be careful and don't select the reverse otherwise you will lose everything. Click Done to close the custom dialog.
Now do a hotsync. You may be prompted to select yourself as the user.
When the hotsync is done, your palm should have your info again.