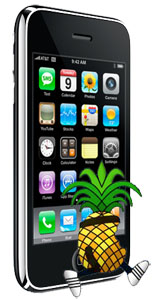 My nephew got an iPhone 3G and wanted to unlock it for use with his T-Mobile plan. Unfortunately, the iPhone was stuck in a weird state with only the Apple logo showing, and the iTunes application did not recognize it. I found that I could put the iPhone into Recovery mode. I then attempted to jailbreak using the custom PwnageTool firmware image I created in my last blog on iPhone jailbreak/unlock (my nephew's iPhone 3G is the same model as mine's). Unfortunately, the custom image restore process failed midway. I decided to load the latest official Apple iOS 4.2.1 image onto the iPhone and then use RedSn0w to jailbreak it.
To load the iPhone with the official Apple image, I had to put it into Recovery mode. Here's how I got the iPhone into Recovery mode to do an official Apple restore:
Connect the iPhone to the computer with the USB cable and start the iTunes application.
Turn off the iPhone by holding the Power button until the Shutdown option appears at the top of the screen. If the iPhone is in a state where the shutdown option does not show and the screen is lit up, then just hold both the Power and Home buttons down for several seconds until the screen goes black.
To enable Recovery mode, press and hold both Power and Home buttons until the screen lights up and you see the apple logo. Release the Power button but keep holding the Home button. After several seconds, iTunes will detect the iPhone and show a dialog saying the device is in recovery mode. You can release the Home button at that point.
On iTunes, select the iPhone, and click the Restore button. Follow the iTunes instructions.
After the restore, the iPhone booted up with the following two messages: "No SIM card installed" and "Insert a valid SIM with no PIN lock to activate iPhone". And when I slide to unlock the iPhone, it displayed a dial-pad with the title "Emergency call" mode. There was no way to access the normal application home screen. This was okay and something RedSn0w will take care of as part of the jailbreak.
To perform the jailbreak, I followed the instructions from How to Prepare your iPhone 4.2.1 for Unlock using RedSn0w.
In step 4, the download link for RedSn0w 0.9.6 beta 5 is broken. Instead, I downloaded it from Download Redsn0w 0.9.6 Beta 5 For Windows, Mac OS X.
In step 7, I saw a new option called "Enabled battery percentage" which was checked by default. I left it checked and when enabled in Settings->General, a useful charge percentage appeared next to the top-right battery icon on the iPhone.
Thankfully, the iPhone rebooted successfully and I was able to successfully repeat the unlock using UltraSn0w. My nephew was very happy with his new T-mobile iPhone!