I found an issue with my Windows 10 desktop. Unknown to me, it has been running an old version of Windows 10 and is lacking all of the recent security updates. Worse, when I run "Check for updates" (a.k.a. Windows Update), Windows say that it is "up to date". But Windows 10 lies.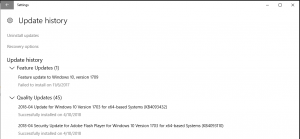 I remember Windows Update complaining about a failed update and asking me to reboot several months ago. After several reboots, Windows stopped complaining so I assumed the problem was solved. But it wasn't. Windows had given up and then pretended that everything was hunky-dory.
Running "winver" tells me that my desktop's Windows 10 version is 1703. The latest version is 1709, known as the Fall Creator's Update. When I check my update history (under Windows Update), it says that the version 1709 update has "failed to install". There used to be a link to reboot so Windows could try again, but that link is gone.
Update Assistant Required
I check the web and there are all sorts of solutions recommending running sfc (and dism), stopping services, clearing out the update history, etc. I try several but they did not fix the problem. The real problem is that Windows Update is not capable of upgrading to version 1709. Version 1709 requires that we install and run the Windows 10 Update Assistant utility.
The Windows 10 Update Assistant downloads the version 1709 update, installs it, and requests a reboot. (Even though I gave permission to reboot, nothing happened but the Update Assistant quitting. I had to do a manual reboot.) On boot up, a grey screen is shown with a message that the update will take awhile. On my Intel Core i5 system with SSD, it took around 20 minutes to complete the update.
The "winver" utility now says that the version is 1709. Windows Update now indicates that "updates are available" and starts downloading them for installation. (There are about 5 updates including "Definition Update for Windows Defender Antivirus".)
Cleanup Old Windows Version
The old version of windows is kept under "C:\Windows.old" and takes up a lot of space (22.6GB on my system). The directory is classified as temporary files, so there are several ways to delete it.
Run "Disk Cleanup", select the "C:\" drive, click on "Clean up system files" button on the bottom-left, select "C:\" drive again, check "Previous Windows installation(s) 23.9GB" and "Windows Update Cleanup 1.78GB", click OK, and confirm by clicking "Delete Files".
Run "Storage", click on "This PC (C:)", click on "Temporary files", check "Previous version of Windows", and click "Remove files".
Manually deleting the directory.
Note: Either the Disk Cleanup or Storage may freeze when deleting the "Windows Update Cleanup". This happened on my system. After waiting 20 minutes, I cancelled the cleanup and restarted. The second time through, the operation completed within several seconds.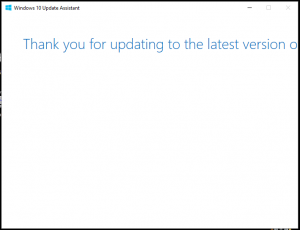 I recommend uninstalling the "Windows 10 Update Assistant" using the "Add and remove programs". It is no longer needed. When the next major version update is required, you will want to download the latest version of the Update Assistant then. Uninstalling Update Assistant will delete the "C:\Windows10Upgrade" directory (20MB).
Note: On my desktop, the Windows 10 Update Assistant insists on launching at startup to thank me for updating with a truncated text message. Worse, the close window icon (upper-right X mark) is greyed out. Worst, it places an icon in the system tray. I don't recall if the system tray icon has a menu option to quit or not.
Check your Windows 10 version and if necessary, update to the latest 1709 version with the Windows 10 Update Assistant.