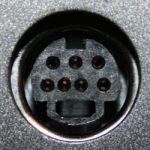 Plug the S-Video cable from the computer to the TV. Turn on the TV before turning on the computer.
Minimize all programs (or close them).
Right-click on the background desktop image and select Properties.
Select the Settings tab.
You should see two monitors displayed with numbers 1 and 2. Monitor #2 is the S-Video connection to the TV. If you don't see two monitors, then do the following:

Click on the Advance button.
Look for a tab that has a small icon on it and the name of your video card; for example, Geforce 5200. Open that tab.
Near the bottom, you will see a checkbox called Force TV detection. Check it.
You will get a popup with a Restart Now button.
Click on the Restart Now button. The computer will restart. Go back to step #1.

Right-click on the #2 square and select Attached
Make sure that Extend my Windows desktop onto this monitor is selected at the bottom.
Then click on Apply.
Click on OK to close the dialog box.
Use Internet Explorer to go to youtube.
Drag the Internet Explorer window to the right past the edge of the monitor. You will see the Internet Explorer window appear on the TV.
Double-click on the youtube movie or resize IE to make the picture bigger on the TV screen.
Steps #4-8 can be seen in this video.