Note: I have also used the WinToFlash tool to successfully make a bootable USB Windows 7 installer, both 32bit and 64bit versions.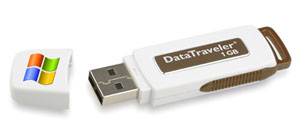 My sister asked me to fix her Compaq Windows XP laptop. I found that the Windows XP Home installation on it was in a weird state. On bootup, it would always show an error saying "One of the files containing the system's Registry data had to be recovered by use of a log or alternate copy". And every time I launched Internet Explorer 8, I would get this error, "A program on your computer has corrupted your default search provider setting for Internet Explorer" and the search provider configuration dialog would appear; however, any change I made to the search provider selection was not saved.
I tried to fix both issues above and failed miserably. There were many suggestions on the Internet but none of them worked for me (except re-install Windows). To fix the Windows startup issue, I tried to do a clean boot (setting msconfig to not load any services on startup) but the error stilled occured. I tried to replace the "ntuser.dat" (user registry file) but that made no difference. I even un-installed and re-installed the Windows XP Service Pack 3. No success.
At the same time, I tried to fix the IE 8 error. I un-installed and then re-installed IE 8; the error still appeared. I deleted the IE "SearchScopes" entries in the registry; that didn't work. I even copied whole IE 8 registry sections from a working machine over to the malfunctioning one. No dice.
I finally came to the conclusion that I had to do a clean Windows XP installation. The problem was the DVD drive on the laptop was broken. So that left me with one option, boot and install from a USB flash drive. I remember looking into bootable USB several years ago and giving up on it because it looked to be too difficult. Thankfully, time has drastically simplified the process of creating a bootable USB flash drive.
The tool I found that made everything painless is called WinToFlash. Just download, unzip, and run the "WinToFlash.exe"; there is no installer setup. Creating a bootable USB Windows installation drive is very simple: you put a bootable Windows CD/DVD (can be Windows XP or even Windows 7) in an optical drive, stick a USB flash drive into a USB port (should be 600MB or larger for Windows XP), run WinToFlash (just use the default Wizard) and select the drive letters assigned to the bootable CD/DVD (or select ISO image file) and the USB flash drive. WinToFlash will copy the Windows CD/DVD content to the flash drive and make the flash drive bootable.
Note: The latest version of WinToFlash is capable of opening up a bootable Windows ISO image directly. However, you can still mount the ISO image instead, and reference it by drive letter in WinToFlash. To do the ISO mount, I recommend either of these two free programs, Slysoft Virtual CloneDrive or WinCDEmu.
I had to go into the laptop's BIOS (press F10 for Compaq laptops) to change the boot order to put the "USB Hard Drive" before the "Notebook Hard Drive". I then rebooted and the laptop booted off of the USB flash drive. The boot menu was a bit cryptic though.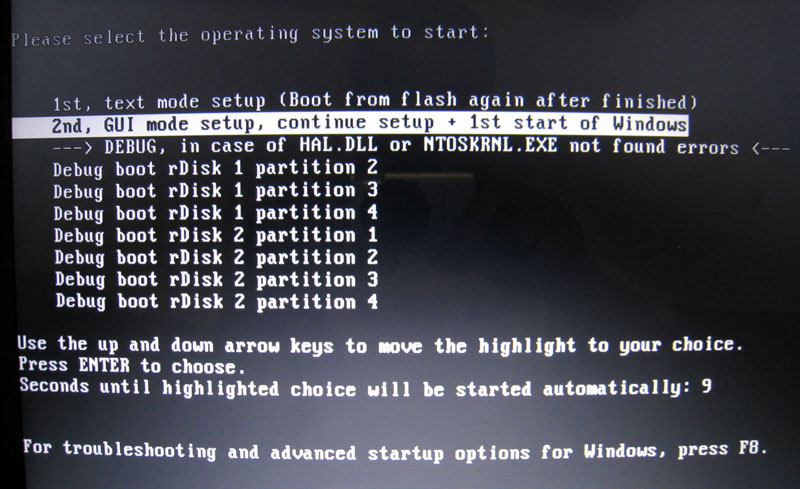 Option 2, "2nd, GUI mode setup, continue setup + 1st start of Windows", was selected by default so I selected that. The Windows XP logo appeared and the laptop booted off of the internal hard drive, instead of running the Windows XP installer. I rebooted and this time, selected option 1, "1st, text mode setup (Boot from flash again after finished)". This time, the Windows XP installer was launched. The rest of the installation was the same as when installing from CD/DVD.
Doing a fresh installation of Windows XP did finally "fix" the weird registry and IE 8 errors. Of course, this was like repairing a car with a malfunctioning engine by removing it and sticking in a new engine. The term "repair" or "fix" doesn't seem to apply in this scenario.
Flash Forward to the Future
The bootable USB flash drive reminded me of when bootable CDs first came out and replaced the multiple floppies Windows installation. Like floppies, the CDs and DVDs will soon disappear; case in point, the new ultrabooks don't come with built-in optical drives. With the decreasing price of solid state hard drives (which use flash technology), the current mechanical hard drives' days are numbered.
Take me as an example. Almost two years ago, instead of buying an external 500GB hard drive for backup purpose, I purchased two 32GB USB flash drives for about the same price. The smaller physical size more than compensated for the reduced capacity. And the smaller capacity flash drives forced me to truly identify which of my digital data was important enough to save.
Next, I will look into creating a live Windows XP operating system on a bootable USB flash drive. It will come in handy to repair broken Windows installations or just to quickly retrieve data from an internal hard drive. If the USB flash drive is big enough, I could even make and keep ghost images of internal hard drives on the USB drive. That would be really useful.