Recently, my rebate application was rejected. I called and was told that I needed to resubmit the rebate with a copy of the invoice, instead of the order receipt that I had included in the original application. They offered to receive it by fax, in addition to snail mail. (The original rebate application did not mention a fax option. I was told about the fax option verbally by the customer representative.)
Unfortunately, I had just canceled my GreenFax Internet faxing service because I hadn't used it for longer than a year. (GreenFax is a paid service which charges 5-10 cents per page sent.) I had believed that email or online form submission had made faxing obsolete. So I had arrived at the conclusion that fax was dead and no longer necessary. But I was premature because many companies were still using fax and were slow to adopt better technology (such as online form submission). Faxing remains a viable, convenient and much faster alternative to a stamped letter.
Rather than re-opened a GreenFax account for this rare instance, I decided to look for free options. Surprisingly, there were several free online faxing services. I ended up choosing FaxZero because it had good reviews, had a simple webpage, allowed 3 pages (excluding the cover sheet), and did not require me to create an online account. FaxZero does place its logo on the fax cover sheet. I was concerned about how large that logo would be, but discovered it to be small and unobtrusive. After using FaxZero, I whole-heartedly recommend it. Hey, it saved me a 49 cent stamp and a trip to the post office!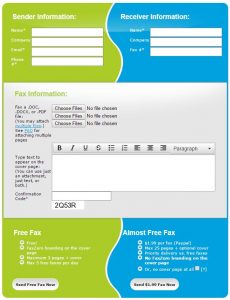 To send a free fax, do the following:
Browse to FaxZero.
Fill out the Sender and Receiver Information.
Attach your multi-page PDF or Word document. You can only send 3 pages for free.
Type some text into the cover sheet. The FaxZero logo will appear on the top-right corner of the cover sheet. (The cover sheet is not counted as one of the 3 free pages.)
Input the displayed confirmation code to prove that you are a living human.
Click on the "Send Free Fax Now" button.
Check you inbox for an email titled "FaxZero.com Action Required – Please Confirm Your Fax". Click on the confirmation link.
You will be directed to a page with a link to your fax's unique status page. Save that status page link so you can refresh it to see what is going on.
Though FaxZero warns that it can take up to 30 minutes to send the fax; I found that my fax was sent within a few minutes. The status page was updated with a success message and I also got an email stating the same.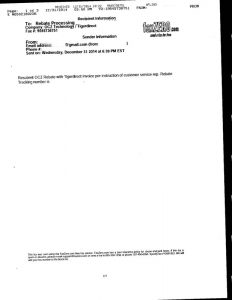 The rebate company scanned what I had faxed and helpfully provided the scan online (in the rebate status page). I was able to verify that the FaxZero logo was as small and unobtrusive as the sample image in the FaxZero FAQ.
A question plagued me. Why didn't the rebate company support uploading the rebate form? Instead, the company forces people to mail in the rebate form, scans it, and then puts it online. I'm afraid that the answer is good, old capitalism.
Companies want customers to jump through hoops when submitting rebates. You have to mail it in, which requires you to get a stamp and go the post office. And of course, to make copies of everything you send in case they claim to have never received anything. You need to wait months before having to call in to ask why you haven't received your check (you need to resubmit because they never got your rebate form) or that your rebate was denied because of something or another. I must admit that the online rebate status (and emails) that most companies provide nowadays is very helpful; instead of the black hole of waiting without any information common in the past.
I found the FaxZero free faxing experience very pleasant, convenient, and quick. So if you ever need to fax something and don't have an old, clunky fax machine, consider using FaxZero or another free faxing service. I hope that FaxZero remains in business until faxing is finally obsolete.